For 20 years, bringing you great art, comics, and stories in printed form!
Hard to believe we've been doing this for more than twenty years, but I have a book with the Jarlidium name on it dated late 1998. A lot has changed since then! We started with fanzines printed on a photocopier, and now we're publishing full-color perfect-bound paperback books. You can check them out in more detail at the "Shop" link above (please do!) or catch us at one of our convention appearances, showing off our new books and more back issues that you can shake a stick at (but you're welcome to try, if you provide your own stick).
You can also get special deals at our convention appearances, as Kirbee and Dewey indicate!
​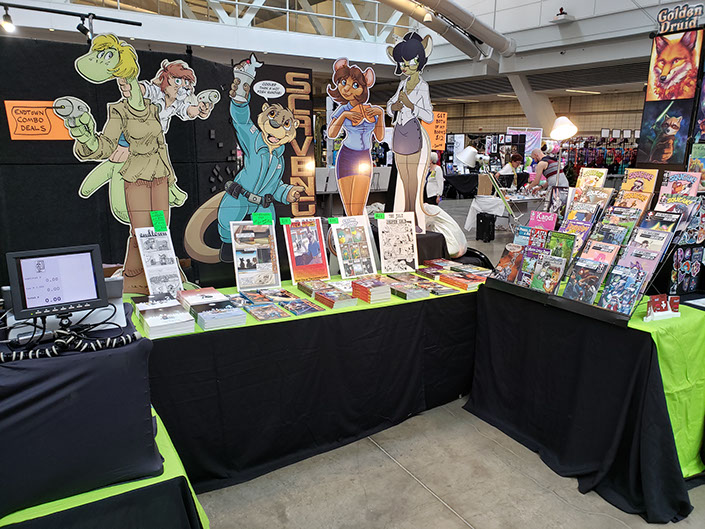 We are the publisher for comics such as Endtown and Scavengers and the Tale of Jasper Gold. If you like mice, we have art books featuring Dewey Teagarden! If you like kangaroos, we have art books by Flinters full of them! We also have a transformation-themed anthology, Xfrmations Unlimited, and "So You've Become a Taur" by Cervelet! And lots more!
​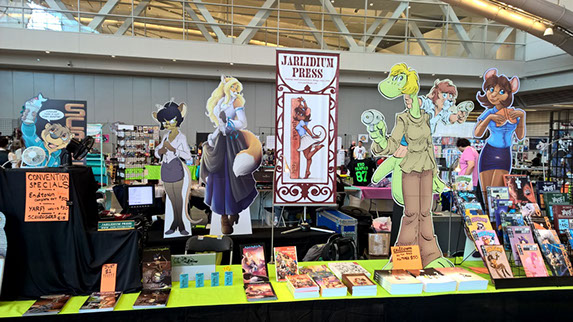 ​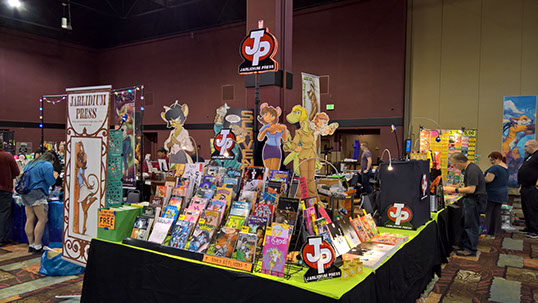 ​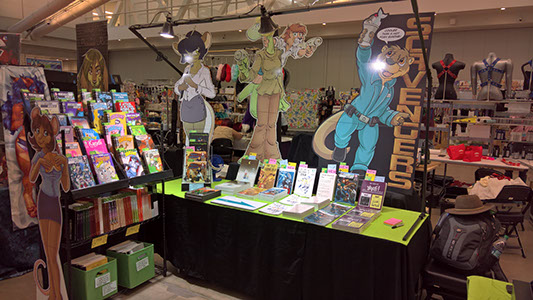 The Backstory...
Jarlidium Press consists of James "Tibo" Birdsall and Dan "Flinters" Canaan, and its history starts in the mid-90's, when Dan was doing fanzine publishing with the Unigraphix crew. He ended up on the west coast, separated from the rest of Unigraphix by the width of a continent, at about the same time that improved consumer-level color printing technology was eating away at Unigraphix's main business, which was doing fancy dye-sub color prints for various artists.
The fanzine business was still going strong, so when Unigraphix proper folded, Dan had no reason to stop. James, who was stunned by the revelation that just anybody could publish a fanzine, was already starting to get into the act. Then we saw an ad for a secondhand Xerox copier...
With the printing now literally in-house, our activity increased, and when we took over the monthly Dallas Brawl Update, the Jarlidium Press marque was born. Eventually, Xerox dropped support for our original copier and we leased a more recent unit, then moved over to a Canon digital copier. Since the Canon was both a high-speed sheet-fed scanner and a network printer as well as a copier, it gave us our first taste of doing production on the computer — we could scan the incoming art, do all the touchup and layout electronically, and then print the final product directly from the files.
The rise of print-on-demand services on the Internet completed Jarlidium's transition to the purely electronic. When the lease for the Canon was up, we returned it and did not get a replacement. We can get a better product — professionally-printed paperback books and comics — by letting the specialists handle that part, and with the disappearance of homemade fanzines from the fandom, professional printing is what buyers expect these days.
What's a fanzine? Back before the rise of big Internet art archives, the only way for art to get from artist to audience was on paper. There were professional publications, comics such as Furrlough or Genus or Zu or Critters, where the artist got paid, and then there were fanzines, where the artist didn't get paid but did get copies of the publication. Fanzines were generally digest sized, 5.5" by 8.5", the size you get if you fold a standard piece of paper in half, and were printed on copiers at the publisher's local copy shop. Some of the fancier ones were 8.5" by 11" and had colored cardstock covers. Fanzines used to be the mainstay of the fandom, and at their height there were several dozen active titles.